Regular price
Sale price
$ 7.95
Unit price
per
Sale
Sold out
23 in stock
Our Lavender soap is a classic option for all skin types. For problematic or sensitive skin, its calming and soothing elements paired with its revitalization properties can help calm both eczema and psoriasis. For normal skin, the essentials oils in this lavender soap help balance the skin's natural moisture production and create a natural relaxant. Overall, this soap creates a calm and relaxing scent that is perfect to calm a stressful mornings or to promote a restful sleep ahead.  
Area of Use: All over body 
Skin Type: All skin types, especially sensitive skin types 
Approx. 4-4.5oz
Ingredients: Saponified Oils of Coconut, Olive, Shea Butter, Sunflower Seed, Castor, and Apricot Kernel, Lavender Essential Oil, and Lavender Buds
Share
View full details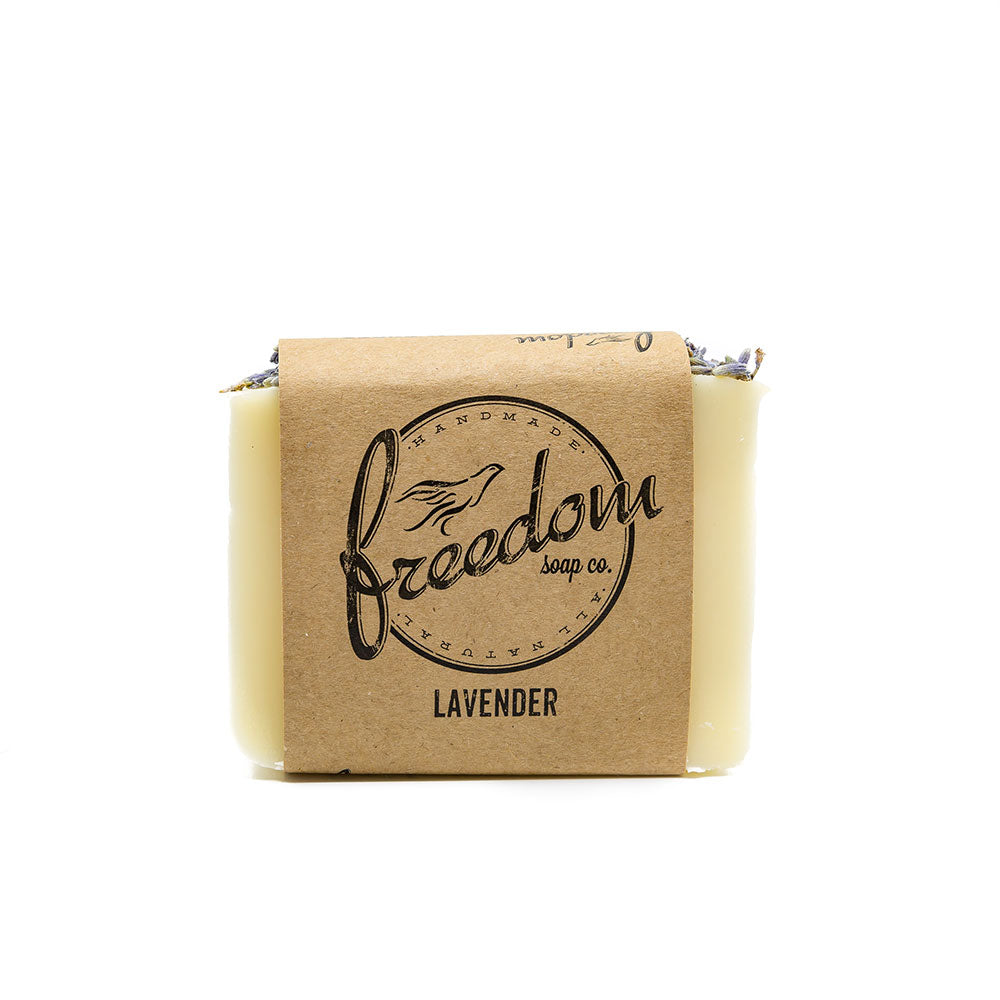 Regular price

$ 0.00

Sale price

$ 7.95

Unit price

per

Regular price

Sale price

$ 7.95

Unit price

per

Regular price

Sale price

$ 7.95

Unit price

per

Regular price

Sale price

$ 7.95

Unit price

per

Regular price

Sale price

$ 7.95

Unit price

per

Regular price

Sale price

$ 7.95

Unit price

per
Frequently asked questions
Is Goat's Milk used in your soap-making process?

No, our soaps are entirely plant-based. We utilize a combination of Apricot Kernel Oil, Castor Oil, Olive Oil, Coconut Oil, Sunflower Seed Oil, and Shea Butter in our recipes.
What are Freedom Soaps scented with?

Freedom Soaps are scented with a delightful range of carefully selected, high-quality essential oils. Each scent is meticulously measured to ensure the perfect balance and aromatic experience.
What is Palm-Oil, and why are your soaps Palm-Oil Free?

Palm oil is a commonly used ingredient in many products, but its production often leads to deforestation and habitat destruction. By choosing to be Palm-Oil Free, we prioritize the preservation of wildlife habitats. We believe in crafting high-quality soaps that not only benefit your skin but also allow us to be good stewards of our natural resources.
Why do Freedom Soaps have a more minimalist design than other handmade soaps?

While decorative and colorful soaps may look appealing, they often contain artificial dyes and additives that can be harsh on the skin. Our focus is on creating soaps that are gentle, nourishing, and effective. We prioritize the use of high-quality natural ingredients without compromising on the performance and benefits of our ingredients.
Are there soap options available for folks with sensitive skin?

Absolutely! We have specially formulated soaps for sensitive skin. Our Plain Jane soap and Rose Clay soap are gentle and free from any essential oil scents. They are crafted using our base carrier oils to provide a soothing and nourishing experience. The Rose Clay soap also contains Rose Clay, which helps to gently cleanse and detoxify the skin while promoting a balanced complexion.
What are parabens and why should I be aware of them?

Parabens are synthetic preservatives commonly used in cosmetic and personal care products. However, we are proud to say that our soaps are formulated without the use of parabens.
Crafted with Care

Our recipes are crafted with care: precise temperature control, measurements accurate to the tenth of an ounce - no detail left to chance.

Premium Quality

Only the finest ingredients and cosmetic-grade essential oils. Treat your skin right and feel good knowing you're giving it the best.

Satisfaction Guarantee

Your happiness is our top priority. If you're unhappy for any reason, let us know and we'll fix it. Guaranteed.